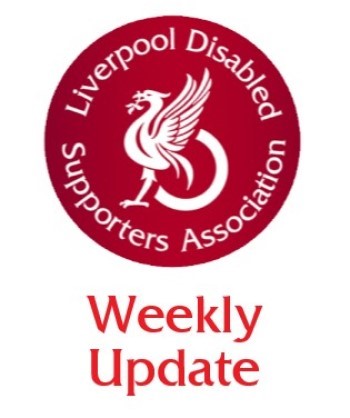 Welcome to our weekly update on the 30th of August. It has been a week to remember. Many members have been given the opportunity to make memories that last a lifetime.
Last Saturday was meant to be our day trip to Glenbuck, the birthplace of our legendary manager Bill Shankly. As this trip had to be cancelled, we managed to arrange a private viewing of the Premier League Trophy and a stadium tour for the members concerned, full details can be found here.
In conjunction with the Owen McVeigh Foundation those junior members, that could, had a day to remember on Saturday too. They had a visit from Jamie Webster and a Mad Hatters tea party, Full details can be found here. If you can try and support Jamie as he has just released his first album. Here is a message from Jürgen regarding it.
Jurgen Klopp promotes Jamie Webster - We Get By
We are also pleased to announce the first LDSA family has had a chance to stay at Peacock Lodge, click here for details. If you wish to help support the Owen McVeigh Foundation by donating, simply click this button.
Donate to the Owen McVeigh Foundation
On Thursday we were proud to announce a LDSA exclusive private viewing of the Premier League Trophy. This promises to be a great event for LDSA members and if you want more details click here.
Time is almost up to renew your membership, and it is the ideal time to join us. Membership of the LDSA is for all Liverpool Football Club supporters who have a disability and/or impairment (disabled membership) or anyone that facilitates them to support Liverpool Football Club (associate membership), with an annual fee of £5 for adults for the 2020/2021 season.
Junior membership (under 16 years of age) is free if a membership form is correctly submitted, with a membership form from the responsible adult (parent, carer or guardian). The responsible adult will be required to pay the membership fee.
Membership benefits include:
• 10% discount at all LFC official retail stores
• 10% off the final bill at the Bootroom Sports Cafe at Anfield
• Twice yearly digital and print members magazine
• Monthly membership e-newsletter
• Discounted party nights at Anfield
• Junior members Christmas party at Anfield
Membership can be purchased or renewed in a quick and easy way via our Stripe powered secure payment gateway simply by clicking the button below.
Once purchased you will be redirected to a thank you page that includes the membership application form. To activate your membership this must be completed and successfully submitted. This applies to both new and renewal membership purchases.
Finally tonight on BBC2 there is what promises to be a very good documentary. Liverpool FC: the 30 year wait. The following preview is from the BBC website.
"Documentary examining the story of Liverpool's quest to return to the top of English football by winning the Premier League. It is a revealing insight into why the club fell away after their domination of football in the 80s - how the club's identity was shaped by both the tragedies of Heysel and Hillsborough, the struggle to keep up with the rapidly changing world of football, and the Jurgen Klopp revolution that has returned them back to the summit of the game.
Narrated by Liverpool fan Jason Isaacs, this is a story told by the people who shaped the club we see today, including contributions from managers Jurgen Klopp, Rafa Benitez, Roy Evans, Gerard Houllier and Brendan Rodgers, chief executives Rick Parry and Ian Ayre, key players in Liverpool's history, including Mohamed Salah, Jordan Henderson, Virgil Van Dijk, Robbie Fowler, John Barnes and Michael Owen, and the man who revolutionised the club, owner John Henry."