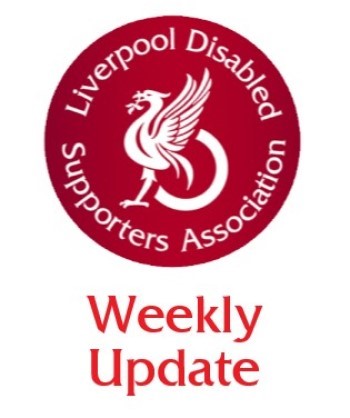 Welcome to our weekly update on the 1st of November. Today you hopefully have received our November e-newsletter via email. If you don't receive this via email you can subscribe and view it using the buttons below.
Subscribe to e-newsletter View our e-newsletter
In the last week we have had our first virtual event, as we stay home and stay safe in these unprecedented times. On Friday our Halloween Spooktacular occurred, and it was a resounding success. Almost 50 families came together online to join in the fun via Zoom. The face painting and dancing brought a smile to many a face. There were messages from Liverpool comedians and LFC players too wishing everyone a great night, and everyone certainly did. We would like to say a big thank you to the Owen McVeigh Foundation and the LFC Foundation in helping to make it such a success.
In these unprecedented times it would be all too easy to simply shut down until we are back supporting Liverpool FC at Anfield. Not the LDSA. We are acutely aware how much our members have been affected in recent months and aim to provide help and support. Our Christmas Party is a highlight in many members diaries. Unfortunately, Liverpool FC has informed us there will be no parties at Anfield. Hence, we are busy organising a Virtual Christmas Party. We have now closed the bookings list, but you can still purchase raffle tickets, with prizes that money almost cannot buy.
Jamie Carragher signed boot, with certificate of authenticity.
Steve Randall print signed by Jamie Carragher, with certificate of authenticity.
A signed Liverpool FChome shirt.
A signed limited edition Liverpool FC cap by Trent Alexander-Arnold.
Two tickets for an Anfield Experience, a day you will never forget.
Two hospitality tickets to a future game at Anfield.
Two tickets to a future game at Anfield.
Meal for two in the Bootroom Sports Cafe.
Carl Clemente, LFC historian, book "19 The official history of our league champions 2019-2020".
Karl Thyer print of a Bobby Firmino no look pass.
A Jürgen Klopp heavy metal football print.
Black and white Sir Kenny Dalglish print.
Liverpool FC's great managers print.
Framed print of Jürgen Klopp with the Premier League Trophy, by Abigail Rudkin.
Framed print of Jürgen Klopp with our 4 latest trophies, by Abigail Rudkin.
To purchase your raffle tickets simply click the button below.
Last week we have launched our merchandise range, we hope you have had a chance to view it. So if you are looking for unique gifts for Christmas or just fancy treating yourself check out some of the items below. Items are sent via a priority signed for service generally. Once you enter an address it will calculate the postage.
Are you struggling to work out when and where Liverpool FC games are being televised? In our events calendar you will find all first, women and academy games listed. If they are televised there is a TV next to them. Simply click on them to get details of how to watch the game. With regards to pay per view games, we ask you to consider donating to the LDSA instead. These donations are being used to help out the most vulnerable in our communities.
YNWA