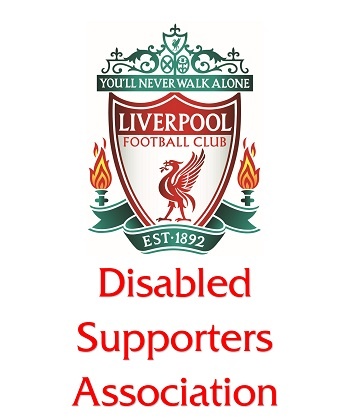 We have been contacted by the Premier League Disability Advisory Group and have been asked to share with you what Watford FC are proposing to do to support their vulnerable supporters when fans are eventually allowed back into stadiums (see at the end of our statement).
Liverpool DSA Statement
We support this statement from Watford FC and have forwarded it on to the relevant department at Liverpool Football Club.
We are aware that many of you are also concerned about what will happen with your season tickets, memberships and credits.
We have contacted LFC and we have asked that they keep us fully updated on what support, assistance and consideration will be given to our disabled supporters when we return to Anfield.
We will continue to provide a voice for disabled supporters of Liverpool Football Club and we will do everything that we possibly can to ensure that your voice is heard.
Both the LDSA and LFC are keen to hear from you and if you have any particular concerns or worries about what will happen when we are allowed back into stadiums please contact us at ldsa@liverpoolfc.com and we will pass your concerns on to the club.
We are hoping to get a survey out to all members on this issue in the next week or so and we would really appreciate you completing it when it arrives so that your concerns and views can be passed on to the club and your voice is continued to be heard.
Liverpool FC have started initial discussions internally on this issue so let us know your concerns so that we can share them with the club.
Your feedback on this matter will be extremely important.
YNWA
Statement from Watford FC
All the latest from Watford FC's
Disability Access Officer, Dave Messenger
As we begin the process of planning for the return of supporters to the stadium, we are conscious that our disabled supporters may have several questions about their attendance as and when Vicarage Road re-opens.
We're also mindful that there may be certain other supporters who will still not be able to attend at that time due to spending further time in isolation, such as older people, those shielding as a result of illness or those caring for any in these groups.
Consequently, there may be concerns that supporters may lose their entitlement to renew and keep their existing seat for future seasons.
While plans for selling 2020/21 season tickets are not yet finalised, we are keen to re-assure those supporters – who may not wish to or be able to purchase their season tickets at the beginning of the season, or when sales begin – that we are willing to help.
We will, on a discretionary basis, pledge to reserve season tickets and seats/bays for future use by these supporters until a point when they are able to resume attendance.
Once we have more detail about stadium re-opening, we will also look at the facilities we provide and do our best to ensure social distancing in the accessible seating areas is introduced where necessary and that supporters can safely access the services they require.