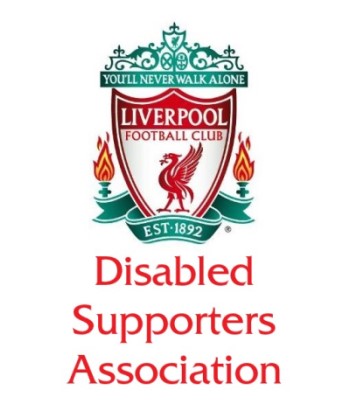 The Liverpool Disabled Supporters Association (LDSA) welcomes and supports the findings of the Independent Inquiry Report into events at Stade De France on May 28th 2022, at the Champions League Final.
From the outset we had confidence that Dr Tiago Rodrigues and his panel of experts would follow the facts and we believe that this faith has been proven correct with the publication of this hard-hitting report.
Our journey to establish the truth started on 28 May 2022, whilst still in the stadium, when UEFA, for reasons known only to themselves, put a notice on a screen inside the stadium which read: "Due to the late arrival of fans, the match has been delayed." Our immediate concern was for our supporters outside the stadium, many of whom were fearing for their lives. By contrast, UEFA's concern seemed to be protecting their own reputation, judging by that notice.
We knew at the time this message was false and we knew where they were going with it! Like so many Liverpool fans, we had been down this road before and from that moment inside the stadium in Paris, we were determined not to allow them to take us down that same road again.
We formulated a plan of action with our friends and colleagues at Spirit of Shankly, led by the indefatigable Joe Blott. We all felt that speed would be of the essence if we were to stop the lies and falsehoods spewing from the mouths of those in authority. They had ultimate responsibility for the safety and security of our fans, and we had to act quickly if we were to stop these false accusations from being accepted as "the Truth". Liverpool supporters are aware of the pain and anguish that these lies and falsehoods cause and they had to be challenged immediately.
We requested to participate in the French Senate hearing convened by the French Culture Committee to investigate events at Stade De France on 28 May 2022. We requested to take part more in hope than expectation, as those in authority often ignore the voices of football supporters.
However, to our surprise, our proposal was accepted, and Joe Blott, Chair of Spirit of Shankly and Ted Morris, Chair of Liverpool Disabled Supporters Association, were invited to represent non-disabled and disabled supporters from LFC at the hearings in Paris on 21 June 2022.
Careful planning went into our historic appearance in the Senate and we thank Ian Byrne MP, Anthony Barrett and David Conn for their valuable assistance and support with our presentations to the Senators.
Our approach was two-pronged; Joe would forensically challenge the falsehoods and demonstrate how "facts" told to the public and worldwide media were in fact lies. Ted would highlight the shocking and, at times, terrifying experience of disabled supporters who had travelled to Paris to participate in a festival of football but found themselves in the middle of a carnival of horror, fearing for their lives.
We attended the Palace De Luxembourg, home of the French Senate in Paris and were given a fair hearing. It is a day that Joe and I will never forget as we believe that our evidence went a long way to establishing "The Truth" regarding what happened on 28 May.
The final report from the French Senate, "An avoidable fiasco, "completely exonerated Liverpool FC supporters and laid the blame firmly and squarely at the door of those responsible for our safety. The same people who had placed us in danger. It was a stunning but correct victory for supporters of Liverpool Football Club who had endured that horrifying and traumatic day. We would like to thank Senators François Noël Buffet and Laurent Lafon for their hospitality and compassion and for giving us a voice when so many in authority ignore us.
When UEFA announced that there was to be an Independent Inquiry, we feared that it would not be as transparent, open, accurate and honest as that by the French Senate. This concerned us and we made our feelings known to those responsible for the investigation and report. However our fears were dispelled at an early stage when we were contacted personally by Dr Tiago Rodrigues who was honest with us from the outset. He said with conviction that he would follow the facts wherever they led. Tiago was true to his word and kept us informed at every stage. He and his team should be proud of their approach.
The report's conclusions and recommendations show how much emphasis they placed on listening to supporters' voices, especially those of disabled supporters. We do not seek recrimination or blame; that is for others to address. We do, though, ask UEFA to take on board the panel recommendations and make the necessary adjustments to allow disabled supporters to follow their chosen team in Europe without having to overcome so much prejudice and navigate so many hurdles.
One of the lessons that must be taken from this report is that in terms of making European football accessible, UEFA has much work to do. We ask that they work with us and seek our expertise to address these injustices and give young disabled supporters from all corners of Europe hope that one day they can follow their football team in the same way that non-disabled children can.
Equality and fairness should not be a fight; it must be a right. In 2023 and with the knowledge of the terrifying experiences disabled supporters experienced in Paris, this is not and should not be an impossible dream.
I want to thank our disabled supporters for providing their powerful and, at times, harrowing testimonies. We know this was not easy and we applaud their courage. A massive thanks also to Dave Garster, Tom Whitehurst and Chris McNulty, who appeared before the panel in person in Liverpool. Their testimonies were powerful and needed to be heard.
To close, I would like to say a personal thank you to Joe Blott, Chair of Spirit of Shankly, who has been a brother-in-arms throughout this entire process. Joe, your support and compassion know no bounds, and when things got tough, your Unity became my Strength. You have the true Spirit of Shankly. Thank you.
You'll Never Walk Alone.
Ted Morris
Chair, Liverpool Disabled Supporters Association.