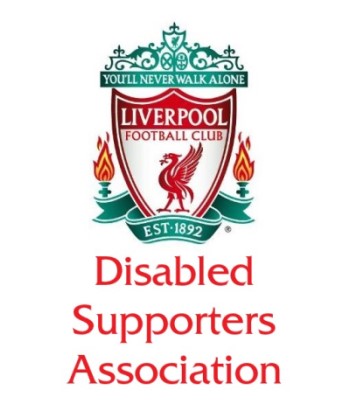 We have received the following from the Premier League Disability Advisory Group regarding our fight for wheelchair spaces at the away Real Madrid match.
PL DAG (Premier League Disability Advisory Group
The members of the PL DAG would like to express their support for Liverpool's disabled supporters in expressing their anger and disappointment in the unsatisfactory and miserly offer by Real Madrid of only four wheelchair spaces for their upcoming Champions League game at the Bernabeu stadium.
This offer breaks all of UEFA's rules and again shows that they only pay lip service to the concepts of inclusion and fair treatment to disabled football fans. The added insult of the four places offered being located in the "Home" end just rubs salt into the wounds. As usual, UEFA talks the talk but hides away when it comes to taking effective action against recalcitrant clubs, who just do whatever they want. Especially the bigger European clubs and especially with ticket allocations across the piece.
UEFA showed their true colours and priorities at last year's Champions League final in Paris when they gave over wheelchair spaces to accommodate more Television cameras.
With the expansion of the Europa League and the introduction of the Europa Conference League, more and more English Premier League clubs are qualifying to play competitive games in Europe for the first time. They are finding that all too often, the needs of disabled supporters are being ignored. Often by some of the biggest clubs in Europe too.
We call on UEFA to take action against Real Madrid to force them to treat all away fans according to the rules. The rules were written by UEFA and are adhered to when the European teams come to play in England.
Signed by
Chas Banks M.B.E. Secretary MUDSA (Manchester United Disabled supporters
association)
Mark Dyer Chair EDSA (Everton Disabled Supporters Association)
Trevor Bright Co-Chair WHDSA (West Ham United Disabled Supporters Association)
Cathy Bayford C0-Chair (West Ham United Disabled Supporters Association)
Dee Bright Chair SpursAbility (Chair Tottenham Hotspur Disabled Supporters
Association)
Darren Cash Chair WWDSA (Wolverhampton Wanderers Disabled Supporters
Association)
Stuart Ramm Chair LUDO (Leeds United Disabled Supporters Association)
Dave May Chair CPFCDSA (Crystal Palace Disabled Supporters Association)
Alison Blair Chair (Brentford Disabled Supporters Association)
Andy Mather Chair SDSA (Southampton Disabled Supporters Association)