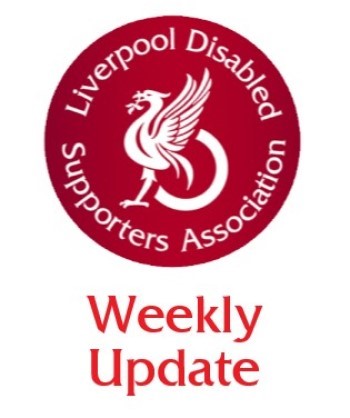 Welcome to our weekly update on the 6th of September, the month of childhood cancer awareness. To aid with this in the last week we published a post on the Owen McVeigh Foundation. It can be found here and if you wish to donate simply click the button below. Every donation small or large makes such a difference to so many children.
Donate to the Owen McVeigh Foundation
On Thursday we were pleased to say Liverpool FC are one of the few clubs that have fully engaged with disabled supporters, throughout the complex process of fans returning to stadiums. Discussions are ongoing as the situation is fluid. The club will release further details in due course but be assured that they place the utmost importance on our disabled and non-disabled fan base with equal importance. If you have not done so already you can read the club statement here.
Finally, due to the global covid-19 pandemic we have not been able to hold any major events or raffles. Therefore we have decided to do an online competition. This is your chance to win a limited edition LFC cap signed by Trent Alexander-Arnold! We have 59 tickets available at a cost of just £10 each! They are in our shop, just click here to purchase. The rules are in the extended product description or in this news post.