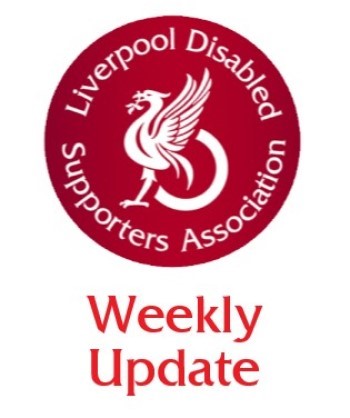 Welcome to our weekly update on the 4th of October. In recent weeks we have hinted at upcoming projects our members would not want to miss. Yesterday many of these were revealed in our October e-newsletter.
In these unprecedented times it would be all too easy to simply shut down until we are back supporting Liverpool FC at Anfield. Not the LDSA. We are acutely aware how much our members have been affected in recent months and aim to provide help and support. In the e-newsletter are details of how to access services to help with mental health. Indeed, next Saturday is Mental Health Awareness Day 2020, please commit to making a pledge to spread a little bit of kindness. Remember what YNWA is, even a small act can make a big difference.
Do you have or know someone who has an invisible disability? We need you! The 3rd of December is International Day of Disabilities and we are working in partnership with the LFC Foundation and Liverpool FC. We are asking our members who have an invisible disability to send us a short video talking about their daily struggles. These will then be forwarded to Liverpool FC to be used a video highlighting this subject.
Partnership and collaboration is also planned between ourselves, the Owen McVeigh Foundation and the LFC Foundation. More details are in the e-newsletter and the LFC Foundation Kicks Inclusion events can be found in our events calendar.
Struggling to work out when and where Liverpool FC games are being televised? In our events calendar you will find all first, women and academy games listed. If they are televised there is a TV next to them. Simply click on them to get details of how to watch the game.
Sadly, we have been informed by Liverpool FC that no Christmas parties will be held at Anfield this year. This means that our Christmas party has unfortunately had to be cancelled. Is this going to stop the LDSA? No! We know the party means a lot to our members; therefore, we have arranged a virtual Christmas Party! Full details are here and this event can be easily booked and paid for via the website.
YNWA