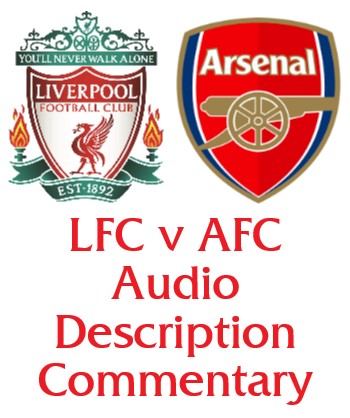 Arsenal FC have contacted us today (Friday 25/09/2020) about our fixture against them on Monday 28th September and also the Carabao Cup game at Anfield. There message is below.
From Arsenal FC:
For the behind closed doors games we have organised a virtual VI commentary service for our blind and VI supporters for all televised Arsenal games using Microsoft Teams.
We will be running the service for our game at Anfield on Monday 28th September 2020 and would like to invite Liverpool supporters to join us if they want?
Also, subject to a commentator being available, we will also be providing the virtual VI commentary service for our 4th round Carabao cup tie at Anfield on Thursday 1st October 2020.
Any Liverpool supporters who want to have the service should email me at afrancis@arsenalfc.co.uk and I will invite them to the MS Teams meeting.
For Monday's game although the meeting will live from 7.30pm the commentary will start at around 7.50pm with the first team news.
Please let me know if you require further information.
If you would like to use this service please contact Alun Francis who is the Arsenal FC DLO here and he will assist you further.
PLEASE NOTE YOU WILL NEED TO DOWNLOAD THE FREE VERSION OF MICROSOFT TEAMS TO PARTICIPATE IN THESE EVENTS.