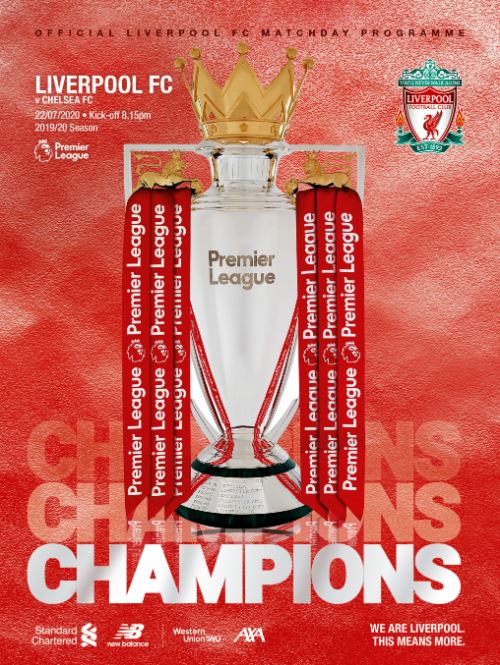 Credit Chris Shaw original article from Liverpool FC website
Jürgen Klopp details his gratitude to everybody who has contributed to Liverpool's title triumph in his programme notes for tonight's clash with Chelsea.
thematically sealing the club's first championship for 30 years last month, the Reds will finally lift the Premier League trophy at Anfield at full-time this evening.
With supporters unable to attend the behind-closed-doors match, the squad are set to be presented with the silverware – and their medals – during a Kop ceremony celebrating fans and involving Sir Kenny Dalglish.
An historic moment awaits and to mark it, Klopp opened up on how all those connected to the club have inspired Liverpool's return to the summit of English football.
Read the manager's programme notes in full below…
Hello to you wherever you are when you read this, ahead of our final Premier League fixture at Anfield this season against Chelsea.
I welcome Frank Lampard, his players, staff and officials of the visitors to our home.
What a job Frank has done this season. We have played them three times already this campaign, in three different competitions and each time the games have been so close and so tight. They are already starting to reflect their manager's personality in how they approach the game and it's very easy to see they are heading in the right direction.
Wonderful players, some really smart and ambitious recruitments made, superb leadership in the manager's office. Chelsea have been a real challenge this season and will be even stronger next.
Moving to ourselves, as much as the 90 minutes is the main focus, I cannot ignore the hugely significant night we are about to experience as a team and as a club.
Yes, as always the game comes first and all our attention and energies will be on that. We have a responsibility to the competition, of course, but also ourselves. We have enjoyed a wonderful season and it is important we finish it in a manner fitting the level of achievement. This is something within our control. As we have all season, we set our own standards and try to exceed them.
I know I won't need to remind the players of this, because they are smart and hungry and they know the job to do.
When the game is done, we will be recognised as champions of England. The first time since 1990 for this incredible football club.
I know we live in a world where 'what's next' often means the 'here and now' isn't savoured as much as it should be. No sooner had we been confirmed champions – on the night when tonight's opponents had beaten Manchester City – and the questions were coming about 'legacy' and 'winning more'.
It is so important to enjoy the wonderful moments when they come. And this is one of those.
I don't normally like referencing the length of time Liverpool has endured before claiming this title, because so often when working to clinch it my message was to ignore the weight of that gap. Last season, when we came so close, I said to the players afterwards that this was not the 29th attempt for them – for us, it was our first proper one. I also told them I loved them, appreciated them and was so proud to be able to call myself their manager.
Everything I said in the dressing room after Wolves at home last season when we came so close but ultimately could only achieve runners-up, applies now but even more so.
I could not love this group of players more. I could not appreciate them more. I could not be more proud of them.
This achievement is their achievement. Their focus. Their dedication. Their talent. Their hunger. That's what has delivered this title. They sacrificed, individually and collectively, and they have their rewards.
This group of players are giants for what they achieved. They have earned every bit of praise and adulation that has come their way.
Tonight is their moment as a team and even though it is happening in unique circumstances, the magnitude of what they have delivered stands alongside some of the greatest sides ever to grace our home.
Typically I have used a lot of words there to express a sentiment I could have summed up in just two: 'thank you'. Thank you to the most incredible football team any manager could be privileged to lead.
The same applies to two other special groups, my remarkable staff and the Liverpool supporters.
This is a moment in the column where I have to show discipline, because if I start naming too many of the 'team behind the team' I risk leaving people out who deserve recognition – and to name everyone who deserves it would take up most of the programme.
Needless to say, without this extraordinary group I would be nothing. They support me, they educate me, they inspire me and they give me energy and drive. It isn't just the coaching staff either. Of course these are the guys I spend the most time with and have the biggest influence on team matters.
But it's so much wider.
Every person who walks through the gates of Melwood makes our environment the place it is. They all contribute. And not 'big or small' – only big, only important, only critical. They do the hard lifting in the shadows and allow the team and people like myself to enjoy the sunshine when times are good. But we know their value and they are as worthy of the title 'champions' as anyone I can think of.
I did say it isn't right or possible to list names but there are two I simply must: Pepijn Lijnders and Peter Krawietz. Both are world-class coaches and leaders in their own right.
They have driven this team forward with their brains, knowledge and imagination. I could not be more appreciative of their contribution. I will forever be grateful.
Our supporters too, although absent since the season restarted, remain the wind in our sails. It is impossible to sum up their impact or their importance. They are the reason that representing this club brings the greatest possible emotional attachment and therefore emotional reward.
What we do here we do together. At times that has meant suffering together. But right now – and in the last 14 months – it has meant celebrating together. I love this.
It would not mean as much were it not for our supporters. They might not be in Anfield tonight in person but their spirit can be felt and we lift this trophy for them.
It has been their wait, their anguish, their dreams. I hope wherever in our city, region, the country or the world they watch from, they realise it is they that make LFC the club with the biggest heart and the most joyful soul in world sport.
Before moving to something more personal I must acknowledge our brilliant owners and football operations team. For FSG, unable to be here tonight because of the current global crisis, this title should act as vindication for smart and brave decisions made over the course of a decade.
Mike Gordon specifically. He is my friend as well as my 'boss'. He is the embodiment of the word 'supportive' – such a special guy – and he made this happen. He and John, Tom and FSG should be very proud tonight. And to Michael Edwards and his team likewise – incredibly smart people who have made nothing but outstanding decisions.
This is fulfilment of a vision.
And finally, for this season, this very special campaign, I must say the words 'thank you' to the people who bring me the most joy of all. My family.
My wife Ulla who is my best friend on this planet. I love you so much. My two sons, Marc and Dennis, you have only ever brought me joy and a feeling of pride. What incredible men you have become. To see you grow as people beats any other achievement in life.
Doing this crazy job is fun because of these three people – my wife and my boys. The bad times are softened and the good times sweetened because we live through them together, as our own 'team'. They are my everything and my heart is constantly filled with love and happiness because of them.
I feel so blessed to have a situation where I am surrounded by people, personally and professionally, who make me realise what a wonderful gift life is.
The times we live in in this moment test us all. For some, the test is unfair and too much to bear. I know we are living through a period where for many joy must feel like a horizon you cannot reach or see. But I hope for the Liverpool family, what we have collectively experienced this season brings some warmth and comfort.
Tonight, when we end a 30-year wait, know that in that moment we will all experience something special and we will experience it together. If nothing else, this is the true beauty of our game and of this club.
This is our moment. We have all earned it. So embrace it and cherish it.
Thank you.
Jürgen Klopp