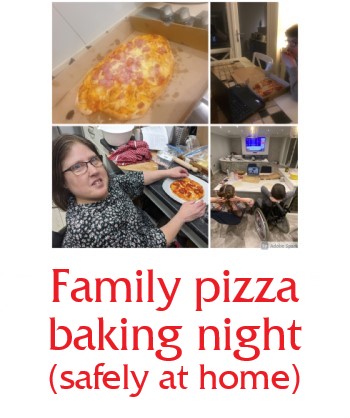 On 19th February 2021, we hosted a family pizza baking night (safely at home).
This event is part of our ongoing campaign to support our members throughout the pandemic. We aim to provide virtual activities to our members and the wider community, many of whom are socially disadvantaged. We hope that this will help them with their mental health and Well-Being, eliminate social isolation, and, most notably, provide families with some respite from the issues that society is currently facing.
As part of our partnership with the Liverpool FC Foundation, we also invited some families that they support to attend our event. Many of our junior members who are wheelchair users are also participants in the Liverpool FC Foundation, and events like this allow children to see and chat with their friends via zoom, which is very beneficial to their mental health.
Our volunteers and committee members Ted and Andy delivered two pizza boxes to each of the families taking part in the pizza bake. One box contained dry ingredients, and one included fresh ingredients, and combined, they contained everything you would need to make four family-sized pizzas from scratch using essential, fresh ingredients.
All the families then linked up via zoom and were guided step by step by another of our LDSA volunteers, Mama Lynn, who also happens to be a fully trained chef! Over fifty families linked into the event, benefitting over 200 people, which is fantastic.
Everyone who attended had a fantastic time, and some of the pizzas were amazing, as you can see from the photos.
We hope that families will now be able to have regular pizza baking nights at home, use fresh ingredients, cook from scratch, and save lots of money in the process.
If you would like to participate in future events, you can join the LDSA by clicking this button