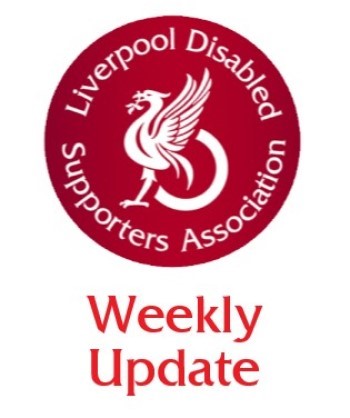 Welcome to our weekly update on the 6th of December.
Its Sunday the 6th of December, so it's time for our weekly update. Today fans return to Anfield for the first time since the 12th of March. We have engaged with the club to ensure this happens in a safe manner. Going forwards we have more meetings planned and we will continue to ensure our members voices are heard. With regards to the ticketing though all enquiries should be made direct to the disability team at Liverpool FC. We have no influence over the process and cannot intervene if the criteria set by Liverpool FC is not met, although we can be contacted for advice.
Virtual Christmas Party
All hampers have either now been delivered or are in the hands of Hermes. We are aware of some delays in the Hermes network and we are actively investigating this. If you have not yet received yours don't worry. Deliveries are still ongoing, and we are hopeful you will by the day of the event. Next Saturday promises to be special.
National Lockdown
England is now out of its second lockdown, but we still need to remember the rules. Each area is now in its own tier, it's now time to remember "you'll never walk alone" and act accordingly. Remember the smallest act of kindness can mean so much to someone else. Be the difference. Check in on family, friends and neighbours if only for a quick chat.
Looking for help and advice? Then visit our links page. Members who need help are encouraged to use our contact page or email us . We will then try and assist in any way we can.
Unique Christmas gifts
Are you looking for unique gifts for Christmas? Just fancy treating yourself? Then our merchandise range could be just what you need. Just go to our shop to view it.
Televised games
Are you struggling to work out when and where Liverpool FC games are being televised? Our events calendar contains all first, women and academy games. It really couldn't be easily to find televised matches. The televised games have a TV emoji in the listing. Just click on the listing to get full details of how to watch the game.
Today, Sunday the 6th, sees LFC Women take on Crystal Palace Women at 2pm with the game shown live on LFC TV. This is followed by the First Team taking on Wolverhampton Wanderers FC at Anfield. Kick off is 7:15pm and the match is being shown on Amazon Prime. It promises to be an emotional night.
YNWA