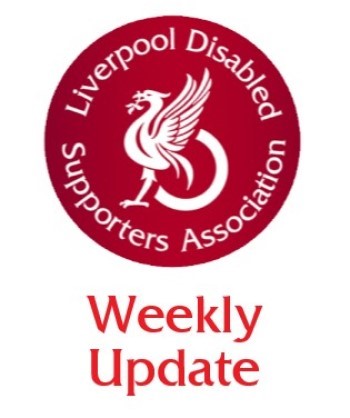 Welcome to our weekly update on the 22nd of November.
Yes its Sunday the 22nd of November so its time for our weekly update. On Monday last week we had our Jamie Carragher Raffle independently drawn. Paul O'Looney was the winner and he has now received his prize. In next weeks update we hope to have a picture of a very happy Paul.
Virtual Christmas Party
Bookings are now firmly closed for our virtual Christmas Party.
We have commenced hamper deliveries and have had great feedback! If you have not yet received yours don't worry. Deliveries are still ongoing and we promise you will by the day of the event.
A massive thank you to everyone who has so far purchased a raffle ticket for the Grand Christmas Raffle. Not yet purchased a ticket? Then why not as tickets are only £1 each. Let's be honest how often do you get the chance to win prizes like the ones below for only £1. That's right only £1!
Jamie Carragher signed boot, complete with certificate of authenticity.
Steve Randall print signed by Jamie Carragher, complete with certificate of authenticity.
A signed Liverpool FC home shirt.
A signed limited edition Liverpool FC cap by Trent Alexander-Arnold.
Two tickets for an Anfield Experience, a day you will never forget.
Two hospitality tickets to a future game at Anfield.
Two tickets to a future game at Anfield.
Meal for two in the Bootroom Sports Cafe.
Carl Clemente, LFC historian, book "19 The official history of our league champions 2019-2020".
Karl Thyer print of a Bobby Firmino no look pass.
A Jürgen Klopp heavy metal football print.
Black and white Sir Kenny Dalglish print.
Liverpool FC's great managers print.
Framed print of Jürgen Klopp with the Premier League Trophy, by Abigail Rudkin.
Framed print of Jürgen Klopp with our 4 latest trophies, by Abigail Rudkin.
Want to purchase a ticket? Just click the button below.
National Lockdown
England is now firmly in a second lockdown. It's now time to remember "you'll never walk alone" and act accordingly. Remember the smallest act of kindness can mean so much to someone else. Be the difference. Check in on family, friends and neighbours if only for a quick chat.
Looking for help and advice? Then visit our links page. Members who need help are encouraged to use our contact page or email us . We will then try and assist in any way we can.
Unique Christmas gifts
Are you looking for unique gifts for Christmas? Just fancy treating yourself? Then our merchandise range could be just what you need. Just go to our shop to view it.
Televised games
Are you struggling to work out when and where Liverpool FC games are being televised? Our events calendar contains all first, women and academy games. It really couldn't be easily to find televised matches. The televised games have a TV emoji in the listing. Just click on the listing to get full details of how to watch the game.
Today, Sunday the 22nd of November, sees LFC taken on Leicester City at Anfield. Kick off is 7:15pm and the match is being shown on Sky Sports. Remember Boxing Day last year? Lets hope it's as good.
YNWA