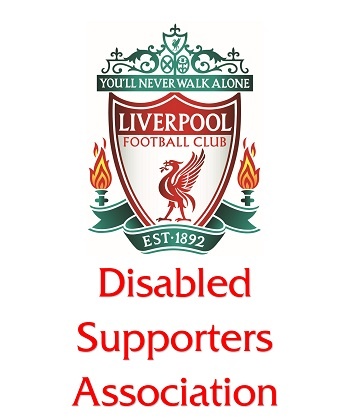 Thank you to everyone who recently completed the Returning to Anfield survey. This will form the basis of our dealings with Liverpool FC moving forwards. It has proved to be a very informative exercise. If you wish to see the results please click on the image below. This will take you to a secure external source as the document is too large for our website.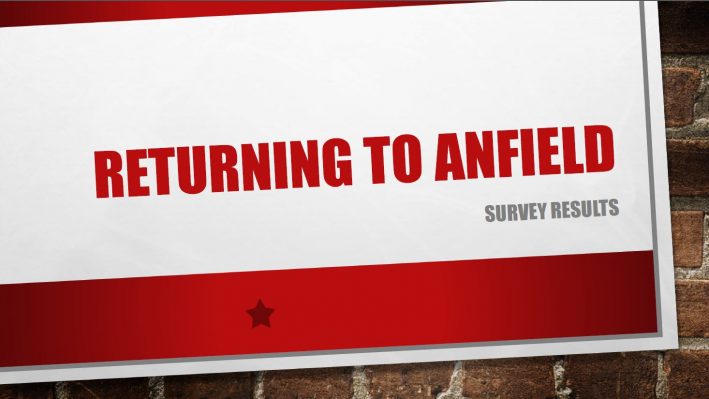 Our Secretary also wrote the following and set it out by email to help our members understand the results
The survey was completed by 155 members and we received 97 comments to the questions which along with the survey results will be sent to Liverpool Football Club.
The opinion of each and every one of you is extremely important to us and we believe that it is very important that ALL of your voices should are heard.
The breakdown of these comments was as follows;
• Q1. 5 comments.
• Q2. 13 comments.
• Q3. 6 comments.
• Q4 11 comments.
• Q5. 10 comments.
• Q6. 12 comments.
• Q7. 13 comments.
• Q8. 12 comments.
• Q9. 6 comments.
• Q10. 9 comments.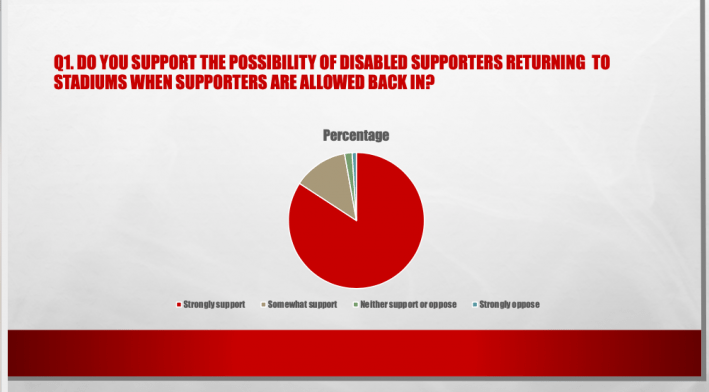 It is quite clear from the results that most of you support disabled supporters returning to stadiums if and when the time is right to facilitate this return.
A few of our supporters are unsure and indeed a few of you are of the opinion that is not yet safe for anyone to return to stadiums and it is quite right that all of your opinions are listened to and taken into consideration by the decision makers.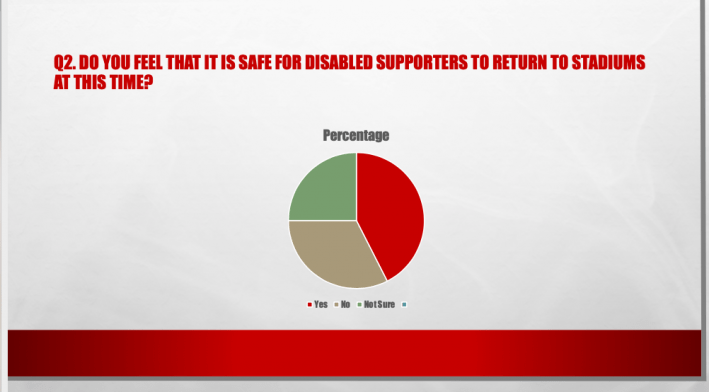 The worry that people have in society in general over the coronavirus is evident here. Less than 50% of you think that it is safe to return at this time.
The mixed messaging that comes from government does not help anybody but those of us in particular who have been shielding are particularly worried about the return and this is highlighted in the chart.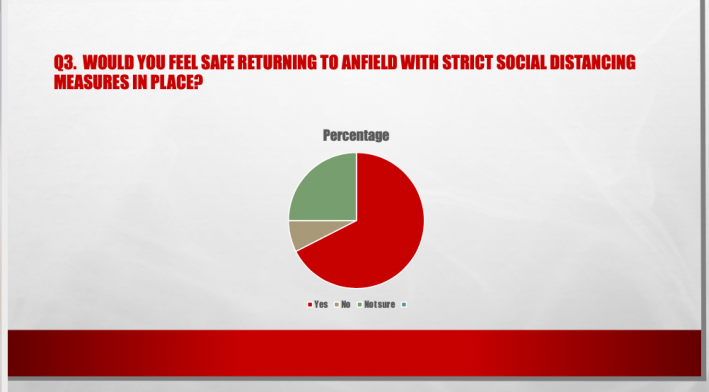 A quarter of you still feel that it is not yet safe to return to Anfield, even with strict social distancing measures in place. It is very important that the club are made aware of this and indeed some of our members feel very strongly about this.
On the other hand a large majority of you say that you would be happy to return to Anfield so it just highlights once again the problems that the club will face when making their plans.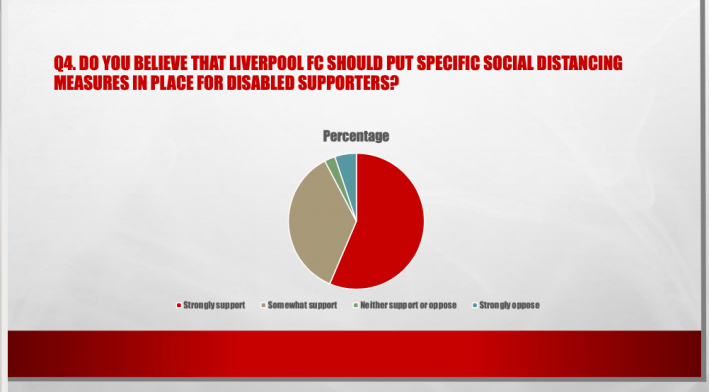 Over 50% of those that completed the survey believe that special measures should be put in place to facilitate the return of disabled supporters, it is important that LFC are aware of this to enable them to plan and discuss accordingly.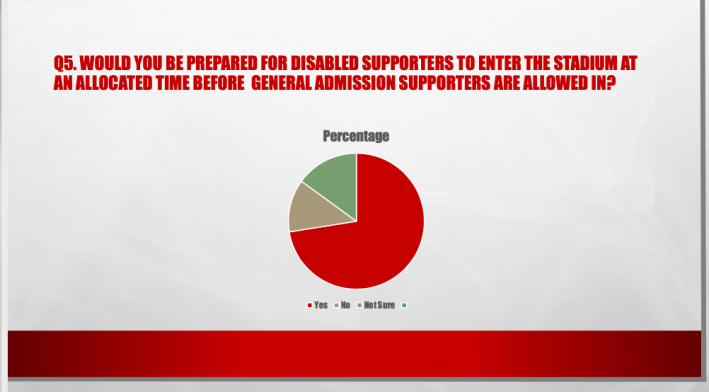 Nearly 75% of the respondents believe that measures should be put in place to allow the safe entry to the stadium of disabled supporters before the general admission supporters.
The problem of the lifts in the main stand and the KD tribunes was highlighted by a number of you, these concerns will be passed on once the survey results have been published.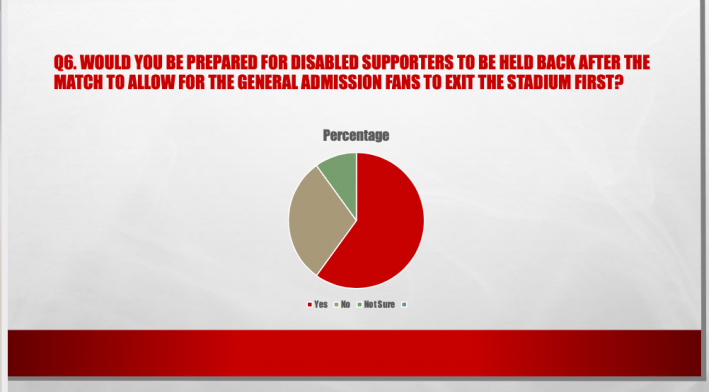 Similar to the last question more than half of you would prefer to be held back to allow the crowds to thin out making exit from the stadium easier and safer.
Some of you disagree and highlight the issue of ambulant supporters who are seated amongst the general admission supporters, this will bring significant issues in our opinion and this will need to be addressed by LFC at the planning stages.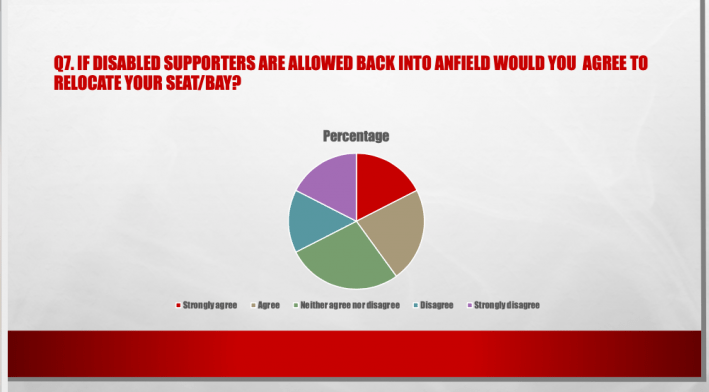 A real difference of opinion on this question which is clearly evident from the chart.
We will have to see how this plays out when the club have decided what is going to happen and all that we can do in the meantime is make the club aware of how you feel about this matter.
It is once again important that all of your views are listened to.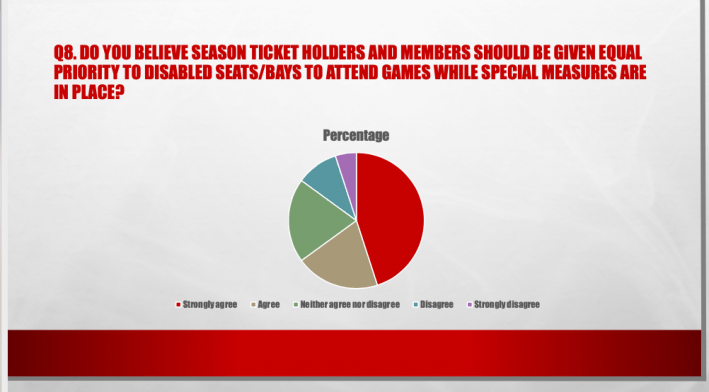 Some really strong opinions from you on this question.
Football in general has not kept up pace with the introduction of membership schemes in this era of football.
Many season ticket holders are unaware that over a season a member sitting in the next seat to them can pay up to £200 more for the privilege.
Some season ticket holders believe that because they pay up front for their season ticket then they should get preferential treatment.
Members believe passionately that they should be put on the same footing as season ticket holders and be treated equally.
These are not our opinions, these are taken from your comments but once again only goes to highlight the difficulties that the club will have to overcome to appease both ST holders and members.
Good luck with that one!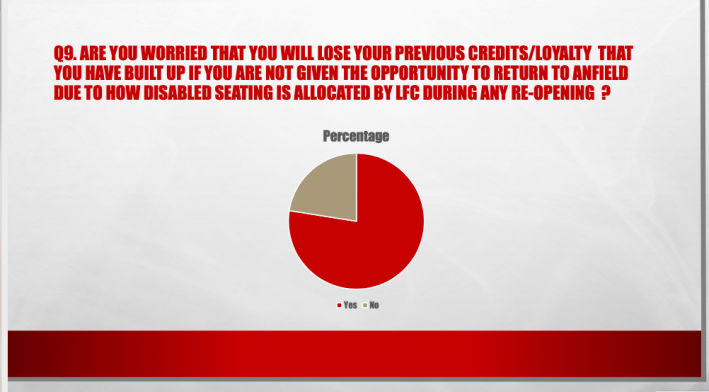 Over 75% of you are worried about this.
Not unsurprisingly by the comments made, most of those who are worried are members and highlights once again the problem with ticketing systems in the modern era of football.
This matter really needs addressing and when our meetings resume with the club we will be challenging them on this, it is extremely unfair that at a time when disabled supporters are struggling to cope due to the pressures and worries about the coronavirus they are worrying about losing what for some of our members is a major part of their lives, their seat at Anfield.
This is wrong and hopefully the club will make the right decisions, we will certainly be lobbying them on behalf of all of our members who are worried about this issue.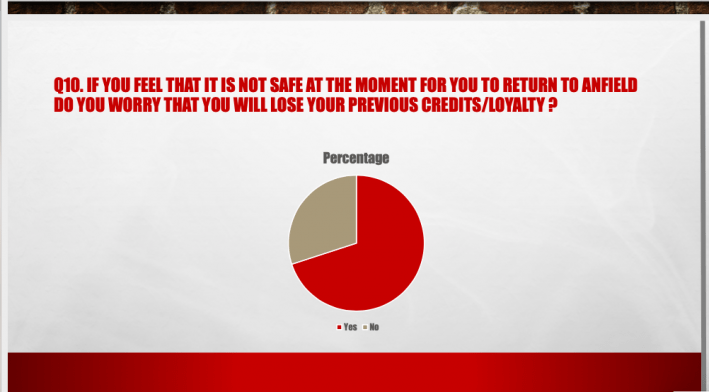 Not much to add on this that as not already been said in response to the previous question.
It would however be extremely sad and totally unacceptable if someone was to lose their credits of history or at Anfield due to having a a genuine fear about returning to Anfield at this present moment in time.